---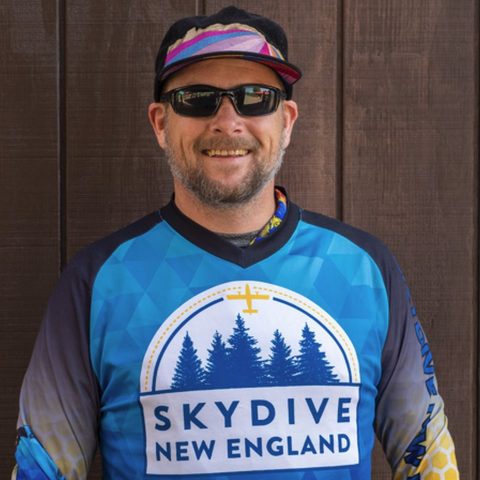 How many jumps do you have?
1,500
How many years in the sport?
5
When you were a kid, were there any early activities that might indicate you'd one day become a skydiver?
Absolutely, I would jump off just about anything I could climb: roofs into snow banks, trees into leaf piles. I even had a homemade bungee jumping set up out of my treehouse. I once got into trouble for jumping off a rather large brick wall at recess in grade school. Not to mention cliff jumping and rope swings on the Saco river as a child.
The very first nickname I ever had was Jumping Joe!!
What was the circumstance that led you to the DZ for the first time to make your very first skydive?
Well, I actually woke up on a beach with two of my girlfriends after a epic campaign night!! We were like, well what are we going to do today to top last night. Someone mentioned skydiving and we called up Skydive New England and then we just sent it!!!! I remember quite clearly walking up to the drop zone and getting deja vu and goosebumps all over my body. It wasn't until 20 years later (2 years ago) while I was on my path to becoming an instructor,  I was walking by the front office of the drop zone and I had the very same feeling of deja vu, it was then I knew this is where I'm meant to be!!!
What made you want to continue skydiving after your first jump?
I didn't!! I swore that I would never do that again! Although I stated that I have been in the sport for 5 years, that's just the time I have ben a licensed skydiver. But in reality I have been skydiving 22 years. It just took me 17 years to do my first 3 tandems. Both jumps 1 and 2 I swore I would never do it again. My 3rd jump a childhood friend was my tandem instructor and after that jump and hanging around the place and meeting the staff and taking it all in, I was hooked and started AFF the next spring!!!
What's the best / most memorable skydive you've ever made?
That's a tough question!!! There are so many awesome experiences in skydiving. But I think maybe my first night jump in Florida out over the ocean and a full moon with the stars out!! That was rad!!!
What advice would you give to someone thinking about jumping for the first time?
Just do it!!! Don't overthink it!!! Breathe and relax!!!
And don't show up hungover!!!!
What keeps you coming back to SNE year after year?
It's where I learned how to skydive! My family is close by, the people who are here, but honestly it is the best drop zone I have ever seen in so many ways!!! Plus, I live here!!!
---
---