Is There an Age Limit for Skydiving?
Blog
---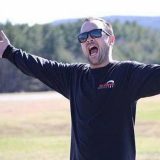 Posted by: Curtis White 12 months ago
Questions around the skydiving age limit abound – in fact, it's one of the very first questions we receive (right along with inquiries about the skydiving weight limit). There's definitely a minimum age (18), but not a maximum age for skydiving. Let's jump into the details!
So, is there an age limit for skydiving? This is an important question, as it can make or break your potential best day ever. And the answer depends on where you live. In America, the vast majority of skydiving dropzones are members of the United States Parachute Association (USPA) which mandates that skydivers be at least age 18 before skydiving. This is because individuals aged 18 and up are considered legal adults in the US, and also for safety reasons. Skydive New England is a proud USPA member, and our instructors are USPA-trained and credentialed.
Many skydiving gear manufacturers make equipment appropriate for the "average adult", which means that it is only adjustable to a certain extent. Those younger than 18 may be on the too-small side of standard tandem skydiving equipment, and for the skydiving harness to fit correctly it must be snug. So, first lesson: bring your valid, government-issued, photo ID with you on jump day! Want other first-time tips and tricks? Check out our tandem skydiving FAQs.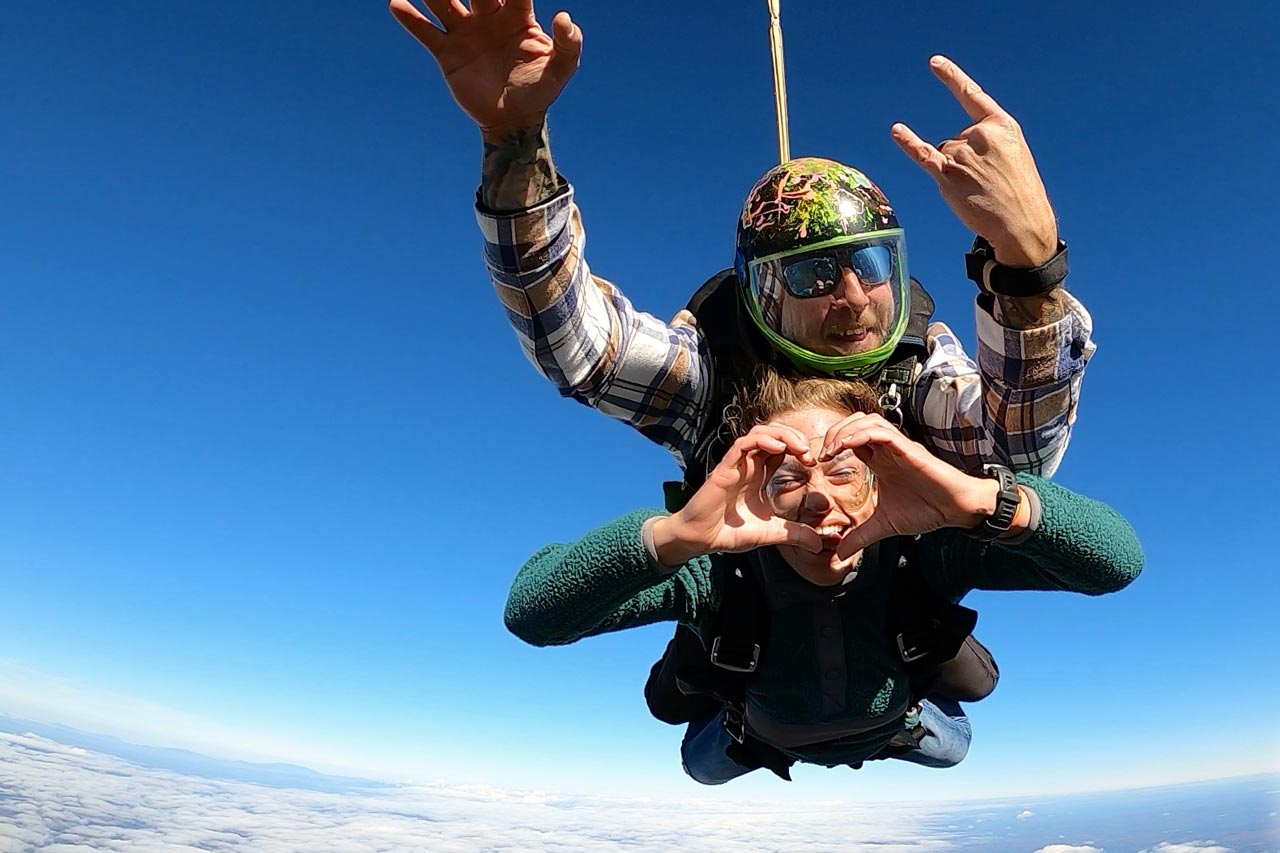 Can You Skydive at 16?
This is also a common question because, in a number of countries, you can skydive at 16 with consent and accompaniment by a parent or guardian – including Canada and Mexico. You can also skydive at age 16 in France, Ireland, South Africa, and the UK, to name a few others that may have you scratching your head. Still, other countries are more lax – you can be 12 years old in Australia and Germany, for example, and there is no minimum skydiving age in New Zealand! 
But what about the other end of the spectrum – is there a maximum skydiving age? We thought you'd ask …
Is There A Maximum Skydiving Age?
We're delighted to share that there is no maximum age limit for skydiving!! YES! This is in keeping with the spirit of the skydiving community, which is super warm and welcoming. We believe everyone deserves the opportunity to take flight, and consider it a privilege to give people of all ages their wings!
Not only is there not an upper age limit to skydive but there are skydiving clubs that celebrate different age groups. It makes sense if you think about it, as skydiving became uber-popular in the 80s and many of those adults are now senior adults who are still getting sky high! 
There's the POPS (Parachutists Over Phorty Society – who are not old but are happy to have their own tribe nonetheless), the SOS (Skydivers Over Sixty) crew, JOS (Jumpers Over Seventy) club, JOES (Jumpers Over Eighty Society), and – you guessed it – the JONs (Jumpers Over Ninety Society)! 
Who Is The Oldest Person To Skydive?
Buckle up, this is going to blow your hair back …
Less than a month before this article was published, a brand-spankin' new World Record was made official for the oldest tandem skydiver in the world. Drum roll, please!! Rut Linnéa Ingegärd Larsson, of Sweden, was 103 years and 259 days old when she made her most recent tandem skydive! (I mean, right?!?!) Larsson's interest in skydiving only started at age 90, which is when she went paragliding for the first time, and she made her first tandem at age 102. 
Until Larsson broke the record, the oldest tandem skydiver on record was Texan, Al Blaschke, who'd done his most recent skydive at age 103 years and 181 days. Blaschke still holds the record for the oldest man on record … for now.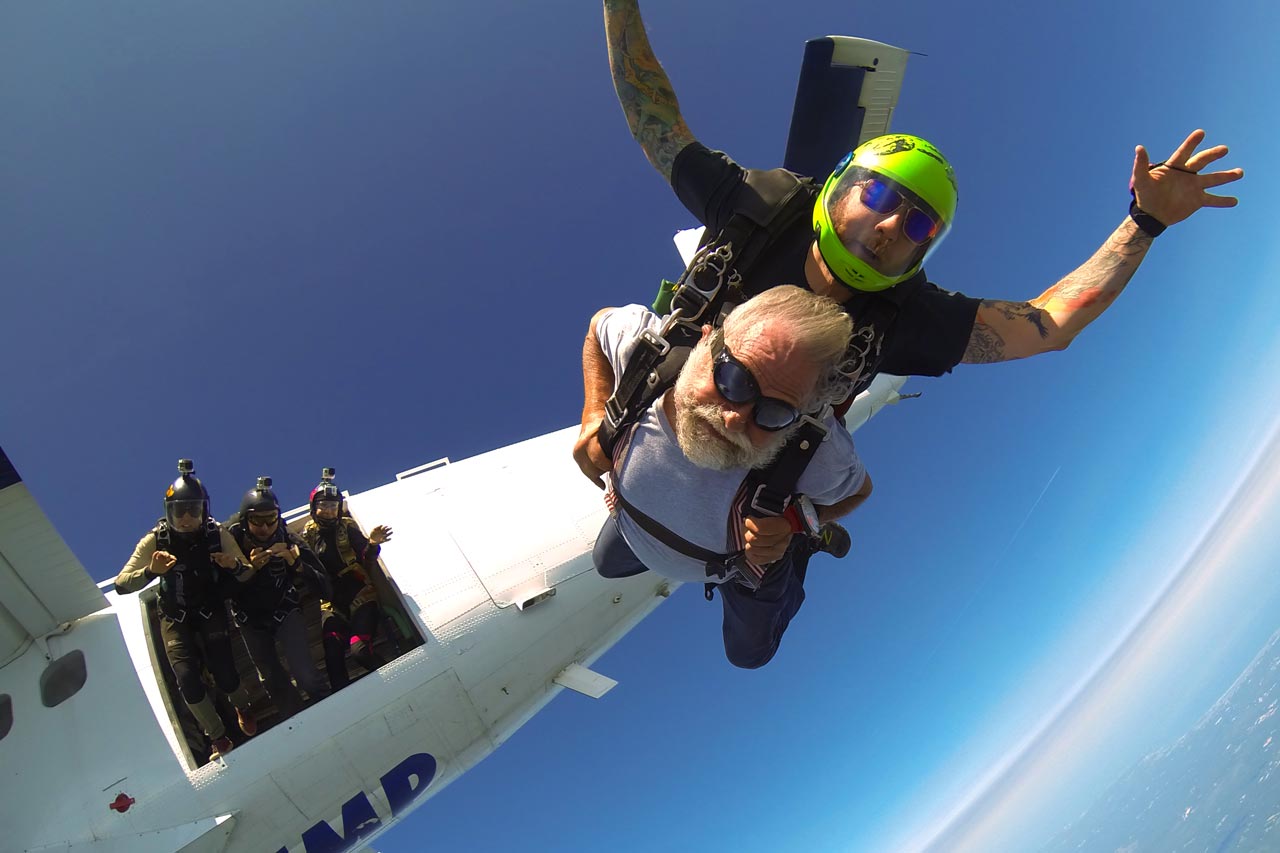 Skydiving Health Risks
Despite the accomplishments of these fit-as-a-fiddle 100+ year olds, skydiving is not for everyone. Those who have health concerns must consult with their doctor before booking a skydive. 
Health conditions that may warrant consideration include, but are not limited to:
Hypertension or other heart issues
Tachycardia
Osteoporosis and other bone density concern
Diabetes
Epilepsy
Back, neck, knee, and/or ankle pain or injury
Pregnancy
Skydiving with a disability is commonplace across the community, though, and does not fall in the health risk category.  If you think you can skydive, you probably can! Connect with us ahead of time to discuss accommodations you may need to make the magic happen.
How much do you love that with skydiving, age really is just a number?! Grab your ID, pack a snack and some water, and come jump with us! You'll make memories that will last a lifetime!!
---
---