The Skydiving Process Explained
Blog
---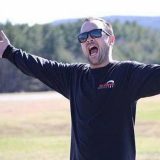 Posted by: Curtis White 1 year ago
When you think of skydiving, the first thing you might picture is the big moment: falling through the beautiful blue sky, a beaming smile from ear to ear. But there is much more to it! So just to clear the air (pun intended), we're going to explain the skydiving process from start to finish. 
Step 1: Book Your Skydive!
If this is your first time skydiving we recommend that you book a tandem skydive with us! Yes, even if you plan to learn how to jump on your own, we still recommend doing a tandem first. It's important to have fun before you get down to the hyper-focused business of learning. 
At Skydive New England, we require that you make a reservation before heading to the dropzone. You can book online any time (even in the middle of the night – we know the idea is keeping you awake!) or you can make your reservation over the phone with one of our helpful team members. Rates differ by day of the week, and we have some sweet discounts for the eagle-eyed consumer!
Step 2: Arrival & Check-In
How are you going to get here? We don't care, just get here! Your reservation time is your class time, so please arrive on time or better yet, 15 minutes prior – better to be early than late.
Your first encounter will be at check-in, known in the industry as manifest, where a team member will help you get checked in for your tandem skydive. Like all great things, there's some paperwork involved – including verifying your age (don't forget your ID!) and signing a waiver, of course. This is your chance to purchase your media package if you haven't already (pro tip: get the video). Once all of that's squared away, you can head to class.
Step 3: Class In Session!
Finally, you get to meet your new best friend: your tandem instructor! Your instructor will go over everything you need to know for your first skydiving adventure. During your class, you'll learn how to exit the aircraft, proper free-falling techniques, and how to position your body during landing. After class, the instructor will get you harnessed up and ready to jump.
We want to ensure you have the best experience at Skydive New England, so we encourage you to use this time to communicate any accommodations you may need or questions you might have.
Step 4: Airplane Ride & Exit
It's go time! You'll walk over to the loading area and board the aircraft with your instructor. You may be joined by other skydivers: tandem students like yourself, students learning to skydive, and even experienced skydivers. Wave to your support crew and our ground crew, and prepare for take-off!
The plane ride tends to be the most nerve-wracking part of the first-time skydiving experience so just try to relax. About halfway up, your instructor will hook up to your harness so that you are securely attached together. When it is your turn, you will move towards the open door of the plane and – with your instructor's guidance – JUMP! This particular moment is the most indescribable feeling. Freedom! Triumph! Empowerment! You – YES, YOU! – are doing it! 
Step 5: Freefallin'
Within seconds, you will reach terminal velocity (typically 120 mph) and you will start to feel a little more stable. The feeling is beyond words as you bask in pure euphoria. The wind rushes past your body, tears flowing up the sides of your face. You feel weightless; like you're floating. By the time you comprehend what is actually happening, your minute of freefall is over and it's on to the next chapter of your jump: the parachute ride.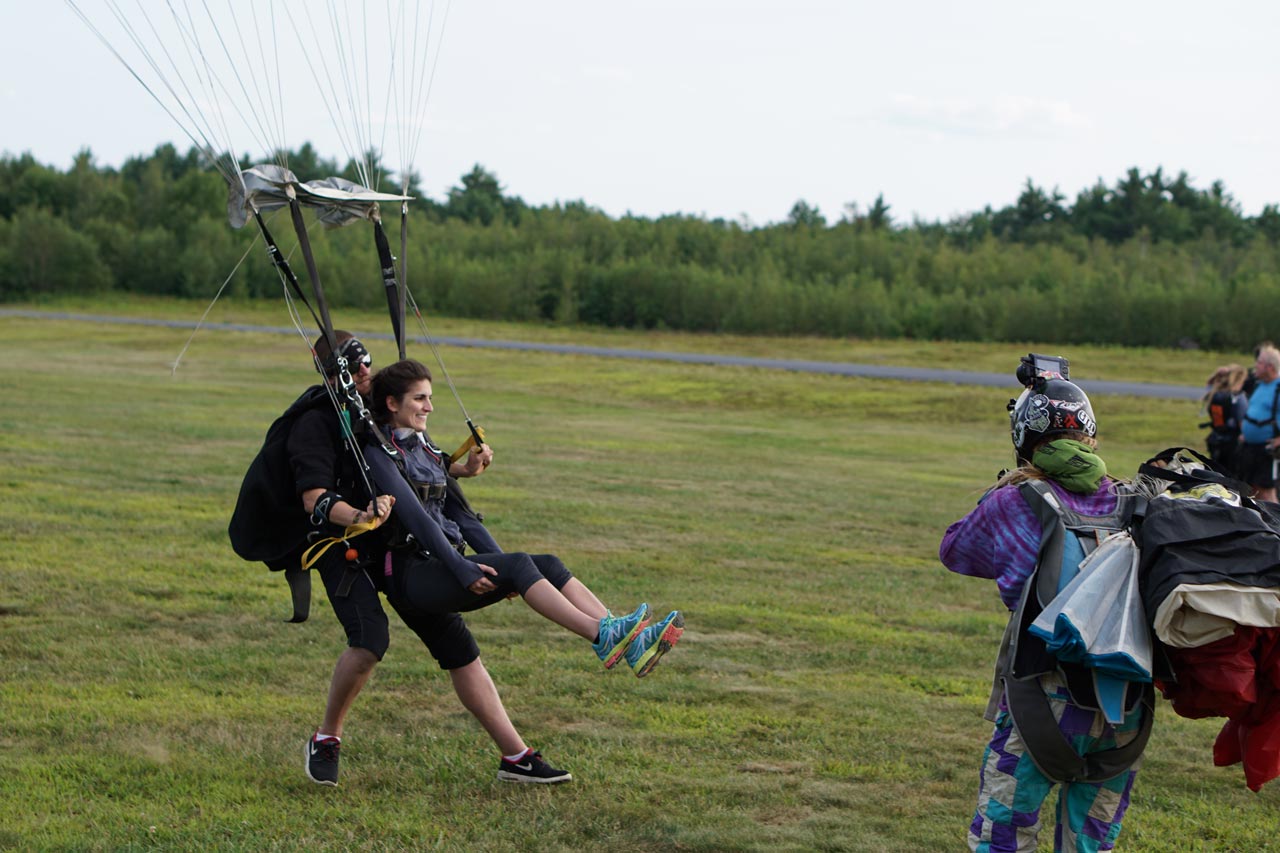 Step 6: Canopy Ride
When it's time, your instructor will deploy the parachute. This is when everything slows down, becomes quiet, and you can fully hear your instructor again. It's incredibly peaceful – a moment of pure bliss, a time to catch your breath and take in the beautiful view. Skydive New England has a spectacular view with bodies of water to spot, including the Gulf of Maine! It will take about five minutes to travel to the ground, so you will have plenty of time to take in the scenery.
Step 7: Landing
Your instructor will use the parachute controls to slow your speed as you prepare to touch down. Again, you will be able to hear your instructor talk – so rest assured that they will tell what you should be doing when it's time to land. After landing, you will be disconnected from your instructor and walk (on air!) back to the facility to be reunited with your friends and family.
After Your Skydive
At this point, you are free to go … or you can hang out and watch other skydivers land, cheer on the next tandem student, or celebrate your accomplishment at our on-site restaurant, the Ripcord Cafe!
And now … there's only one thing left to do: come jump with us! We can't wait to take you on an epic adventure. Blue skies! 
---
---