First-Time Skydiving Tips
Blog
---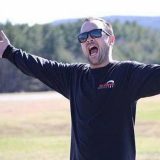 Posted by: Curtis White 10 months ago
You know what they say – there's a first time for everything! But some firsts aren't nearly as old-hat as that saying would lead you to believe. Especially with something as out-of-this-world as skydiving! The act of jumping out of an airplane is no small feat, so knowing how to prepare may seem like a big task. Luckily for you, we know a few people who are well beyond their first jump and can't wait to bring you along for yours! First-time skydives are sort of what we do.
If you're considering making your first skydive with Skydive New England, read up! We've got five of the best skydiving tips we wish everyone knew!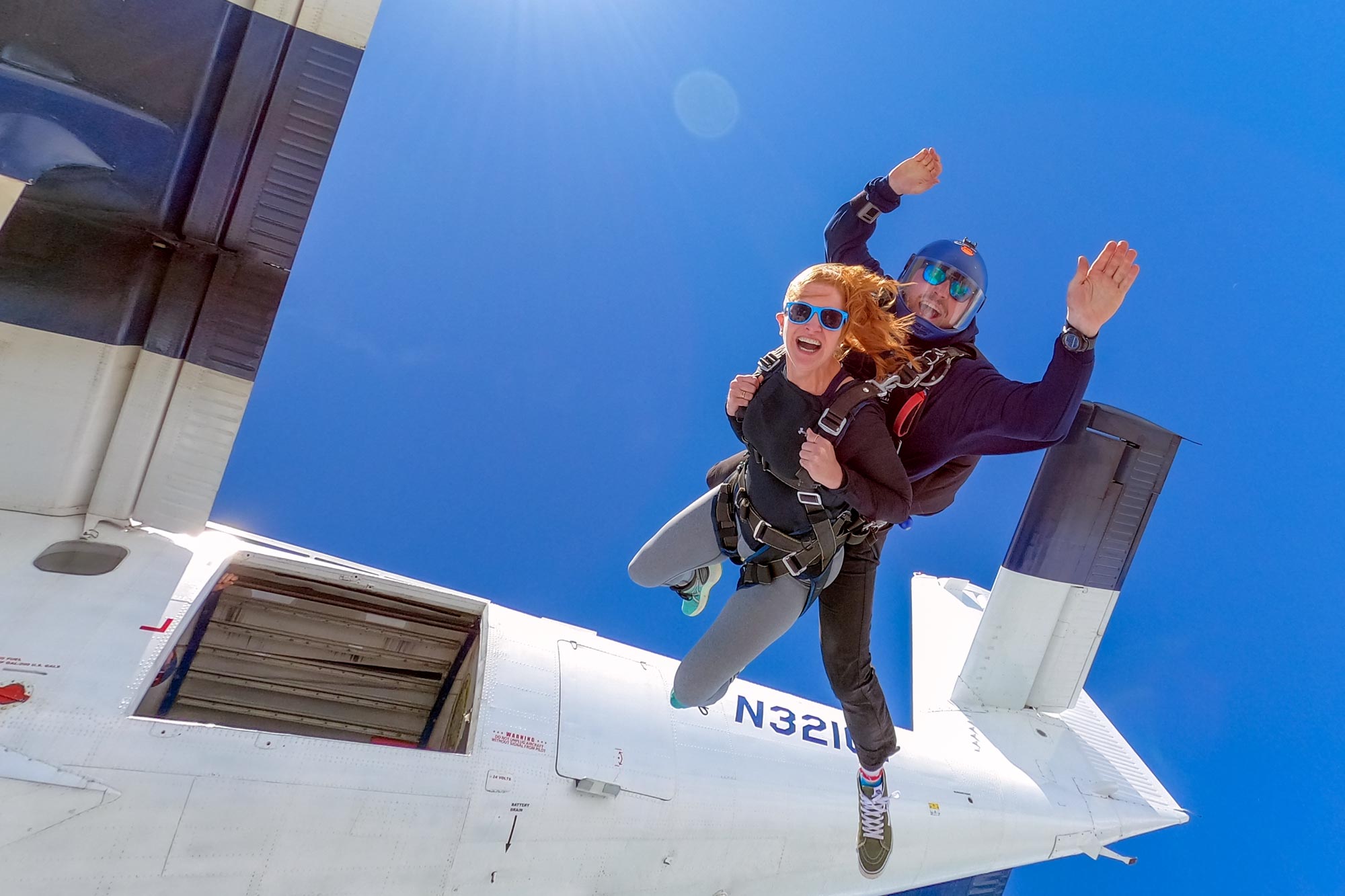 #1: Book Early
We suggest booking your tandem skydive at least one week in advance for a few reasons. Now, if you're the person who decided to go skydiving last night after a few drinks, this little piece of advice might not jive. More on this in tip #5.
Scheduling ahead gives you more flexibility and the best chance to get the date and time that you want. This is an especially important first skydive tip if you're bringing a group of friends. The more people you're bringing the more slots you'll need open, so you'll want to increase that timeline to more like two weeks in advance. 
The other thing we mean by book early is quite literal: book the earliest time in the day that you can. (Cue the chorus of sighs from the night owls and a pleased little crescendo from all the early birds!) The morning will usually offer the best weather for skydiving. During the spring and summer months, afternoon thunderstorms are far more likely. If you want a beautiful, crisp first-time skydive, booking for the morning is your best bet.
It will also get you ahead of the line. Booking in the morning is the closest thing you can get to a fast pass, and it doesn't even cost extra! Of course, weather delays do happen. Even if you book the first slot of the day, be prepared for the possibility of being grounded until any less-than-ideal weather passes through. Maybe play or watch a little indoor basketball, or bring some personal entertainment.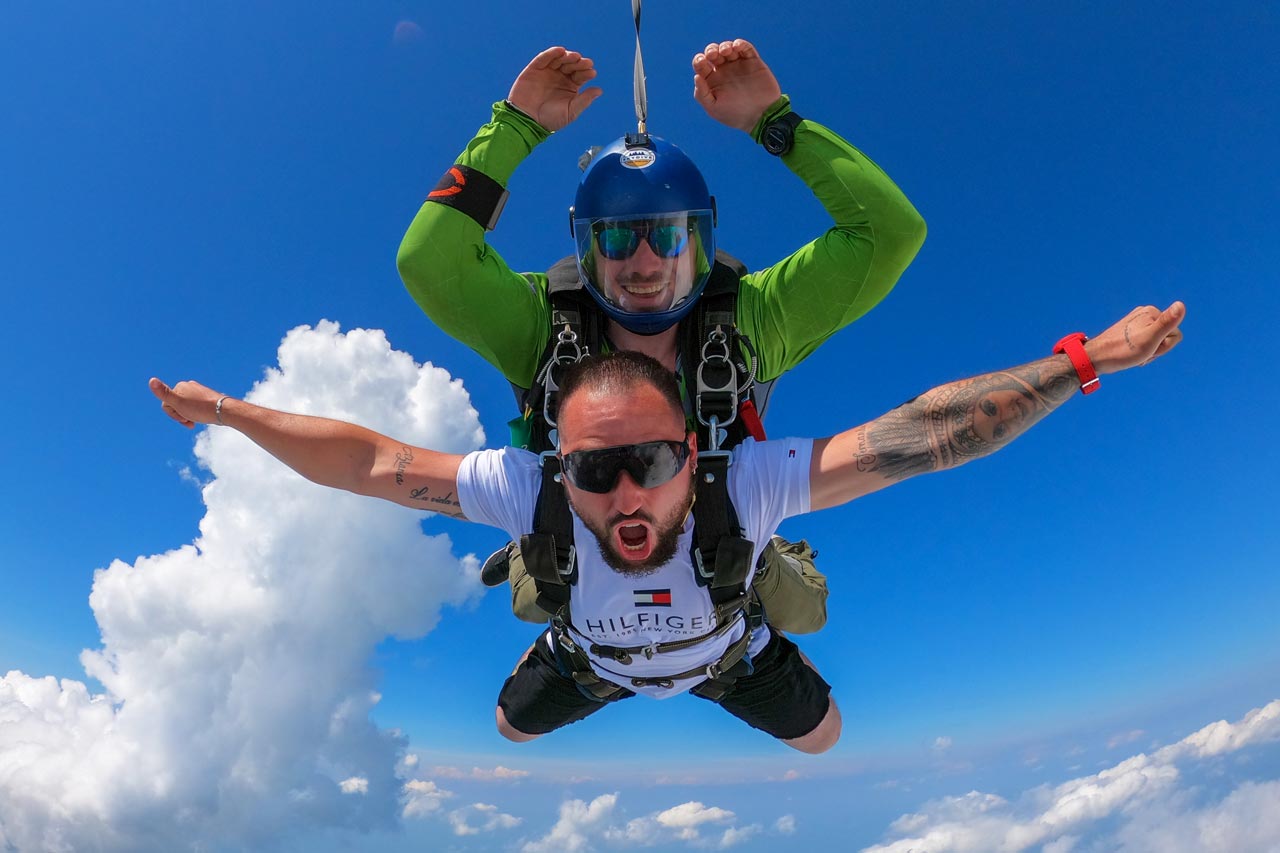 # 2: Bring the Essentials
Don't leave home without your valid, government-issued photo ID. You're going to have a lot on your mind on the day of your jump – make sure your wallet is on your person before you head for the dropzone! If you show up without your ID, you won't be able to check in for your skydive. We need to verify that you are who you say you are – and that you're over 18 – before you can sign any waivers.
You might want to pack a cooler with some snacks, non-alcoholic drinks, and anything else you'll need to stay feeling great on the day of your jump. If you forget anything (or dip into your cooler on the drive-in), our on-site restaurant, the Ripcord Cafe, has you covered!
Another great thing to bring along is people! The energy that a good group of first-time skydivers brings is unparalleled. You will all experience the same spectrum of emotions across your time at the dropzone, which means you'll be uniquely equipped to be one another's support system. You'll hype each other up … help keep the second thoughts down … and create memories for life! Plus, if you get enough people interested, you may qualify for group pricing! 
The non-skydiving spectators in your group are also essential – all of us benefit from having our number-one fans close at hand! Those celebratory hugs and high-fives will feel so good from your personal ground crew.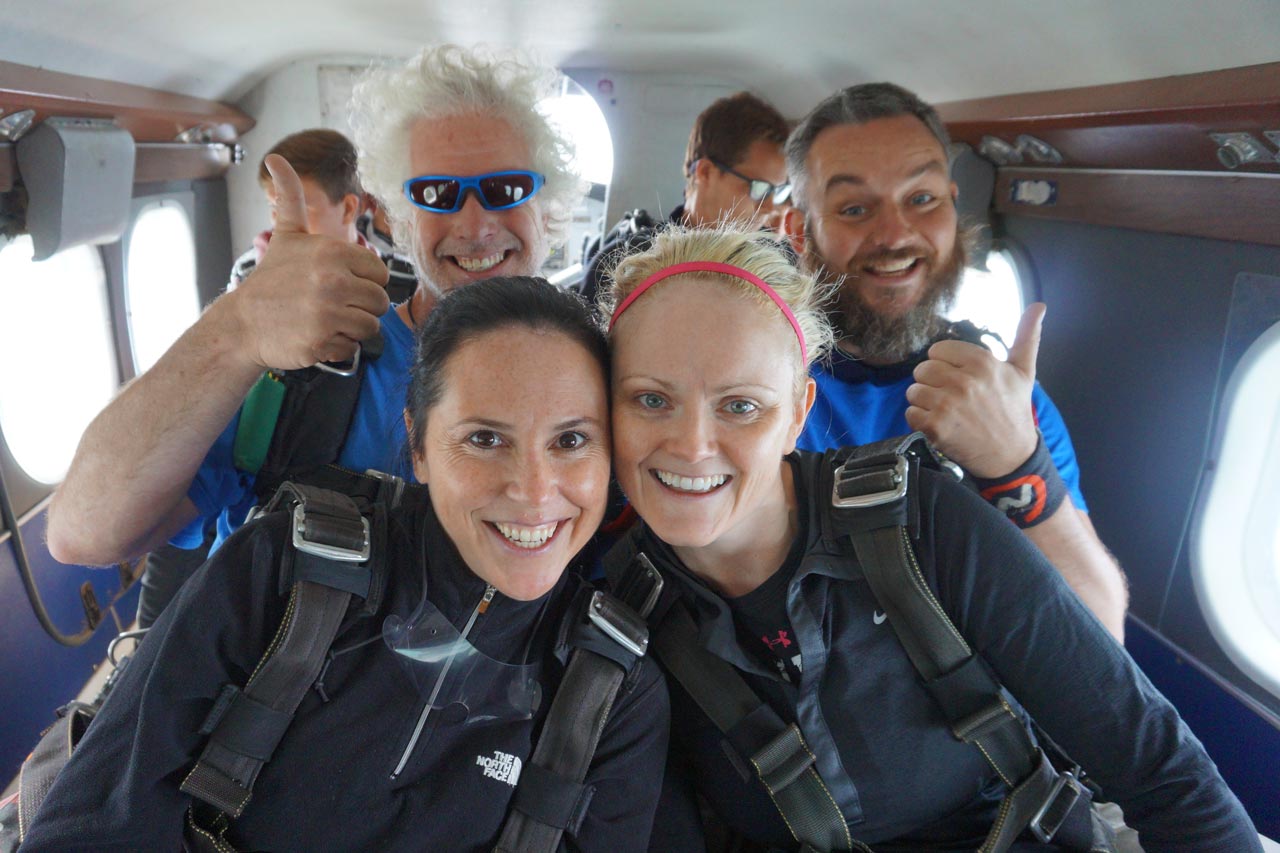 #3: Dress For Success
Keep in mind that skydiving is a sport, so attire is important. As a rule of thumb, if you can exercise in it, it'll probably make a fine skydiving outfit. You are going to find yourself in a variety of positions throughout your skydive – like crouching, squatting, arching, and bending – so you want to make sure your clothing won't hinder your movement. 
That said, make sure that your clothes aren't too baggy. The 120 mph wind of freefall loves nothing more than to whip loose clothing around, which is not awesome for you or your instructor. Similarly, dangly items like necklaces and earrings should be left on the ground. Your glasses (or contacts) should get sky-high with you, though. Don't miss views of the White Mountains, the Atlantic Ocean, and even Boston on a clear day! 
Footwear is important too. Lace-up sneakers or skate shoes are best. And heels, boots, sandals, flip flops, and anything with hooks are a no-go.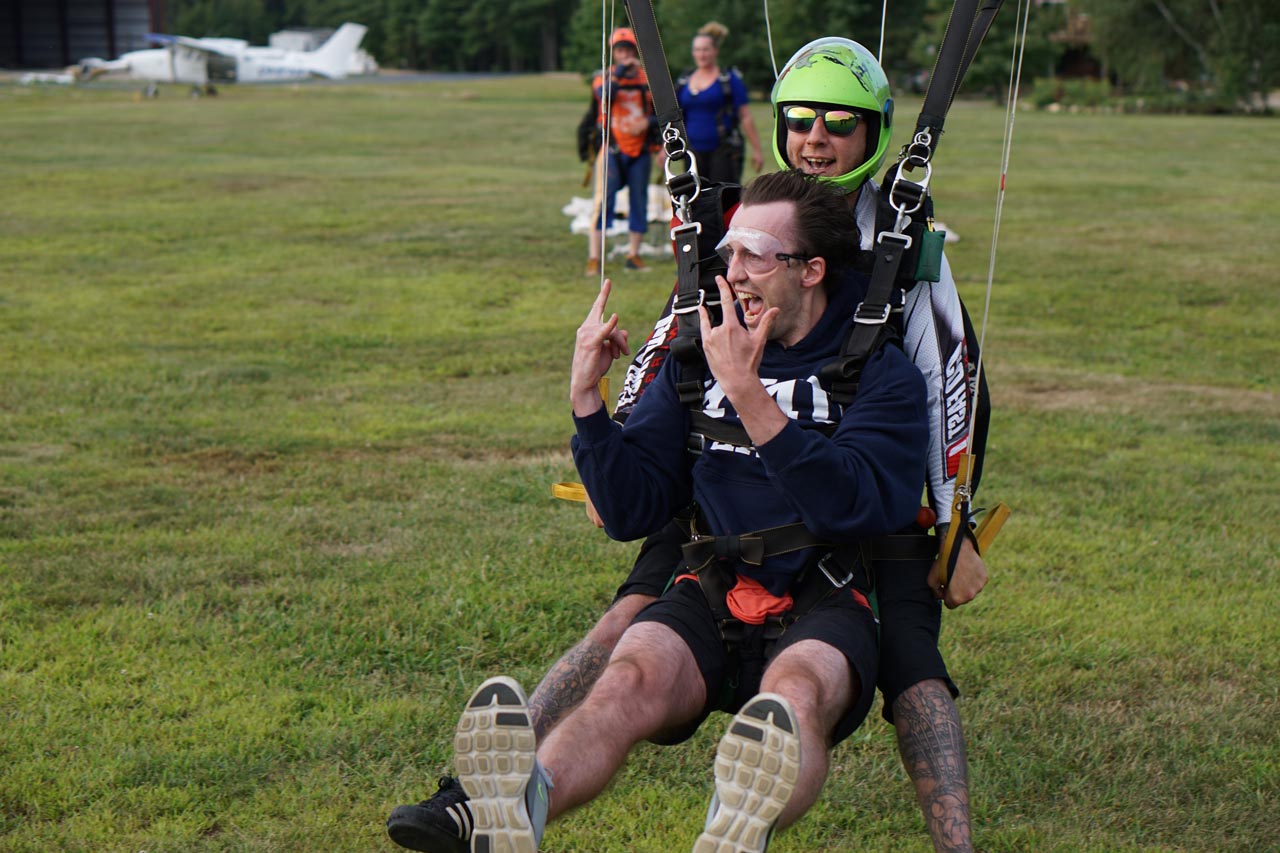 #4: Spring for the Video
See what we did there? Spring… get it? Your first jump will pass by in the blink of an eye. With a media package, you can relive that experience over and over (and over!) again. Not to mention proving to your friends how cool you are (#skydivenewengland). 
At Skydive New England, we have three skydiving video packages to choose from. An up-close-and-personal selfie option that your tandem instructor will take, an outside perspective shot by a professional videographer, or both! Every moment of your big day will be captured, from gear up to landing, creating a supremely-cool memento of your skydive that you'll treasure long after the ride has ended.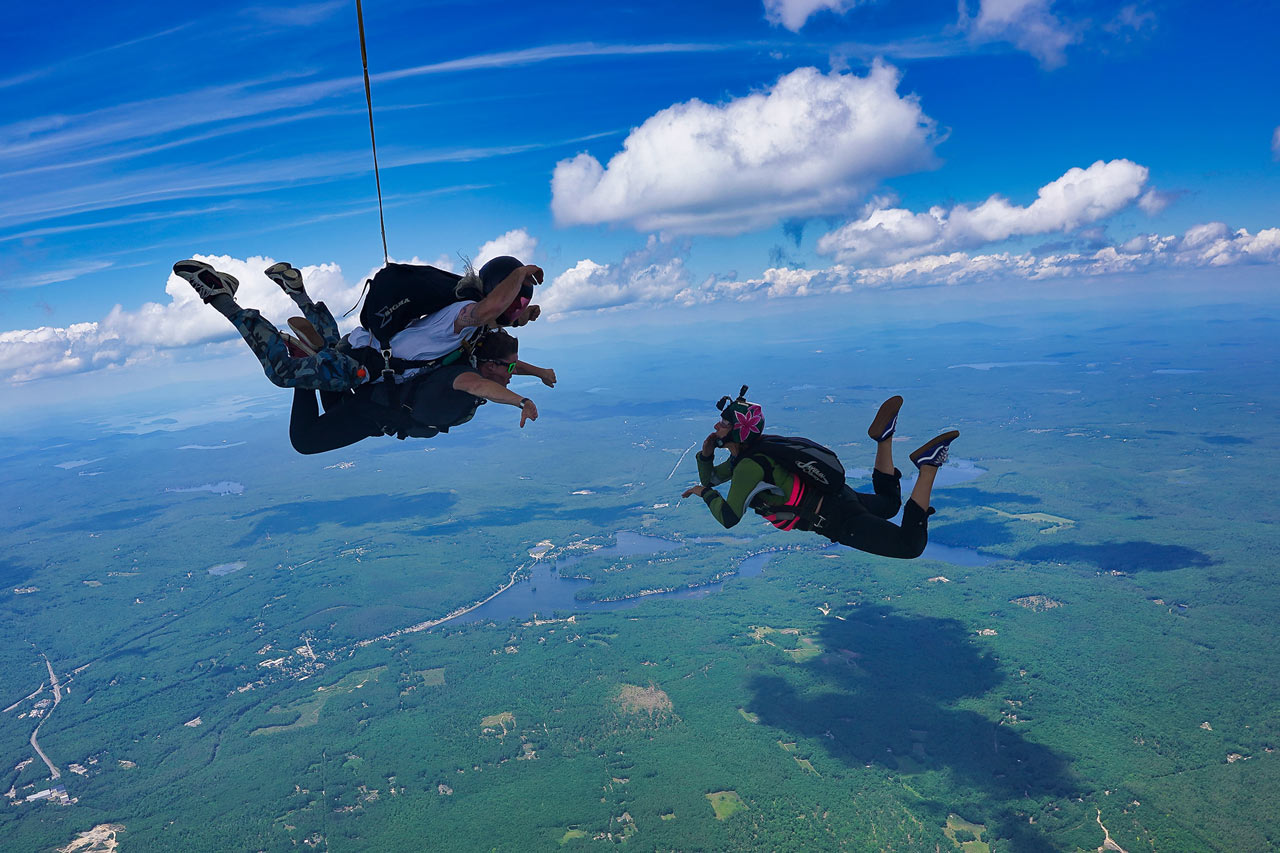 #5: Fuel Up
If there's a surefire way to ensure a less-than-pleasant skydive, it's to make a jump on an empty stomach. Take it from us, the day of your skydive is not the time to give intermittent fasting a whirl. Because of the significant peak in adrenaline that you'll experience, you'll want to make sure you have something in your stomach. It's best if you eat a moderately sized, balanced breakfast before you leave home for the day. You want to feel satisfied but not overly full.
Hydration is also important! It's easy to forget to hydrate, but the day of your skydive is the day to live up to that ever-elusive New Year's resolution to drink more water! Drinking water will keep your blood pressure level, your brain functioning on all cylinders, and pep in your step!
Equally important is avoiding alcohol. As tempting as it is to swallow down that liquid courage the night before your big day, don't do it. Skydiving groggy and hungover is no fun – be present for this once-in-a-lifetime event! In fact, getting a full night of rest is imperative. Set yourself up to feel your best.
Bonus First Skydiving Tip: Tipping
Another helpful skydiving tip for first-timers concerns tipping. Tandem instructors have years of skydiving experience and a whole lot of training. They do what they do because they love sharing our incredible sport! Your instructor (and videographer) are not expecting you to tip them, but they will certainly be grateful if you decide to express your gratitude in this way. Another way to show them some love is to give them a stellar online review.
Now that you know what to do before skydiving, come show us what you've got! Call us with questions, or go ahead and book online. We can't wait to share the sky with you at Skydive New England! Blue skies!
---
---